10 Diaper Bags For the Stylish Mom (and Dad)
GiftSimple can be used for any occasion but this time we're talking babies!
After splurging on a Louis Vuitton Black Epi Leather Alma Handbag, my friend found out she was pregnant.  There was no way she could carry the baby-essentials in that bag! The hunt for a fabulous diaper bag was on. I suggested she list the diaper bag she wanted on GiftSimple and our group of girlfriends could chip in to buy it for her. Nothing against onesies and burp cloths but mommy-to-be had the biggest smile on her face when she went out, money in hand, and bought her dream diaper bag. Whether it's furniture for the nursery, a pricey stroller or a fantastic diaper bag, GiftSimple is the smart way to get the big-ticket items you really want.
Diaper bags need to be functional, but that doesn't mean they can't be fashionable.  Celebrities have big budgets and stylists on retainer so where better to look than what's slung over their shoulders or strapped to their strollers; but, not all the bags on the list have celebrity owners or celebrity price tags. Here are some of the most stylish diaper bags currently on the market.  Comment below to let us know what you think!
1. Timi and Leslie Charlie
Having one celebrity carry your bag is great but eight is a major coup! Victoria Beckham, P!nk, Alyssa Milano, Courtney Cox, Nicole Kidman, Faith Hill, Jessica Alba and Kourtney Kardashian all own a Timi and Leslie Convertible Diaper Bag. The Charlie ($160 shoptimiandleslie.com) is edgy and cosmopolitan—a perfect combo for the stylish mom.  Timi & Leslie diaper bags are designed to look like regular, stylish handbags, but inside they're loaded with mom-friendly features: tons of pockets, a changing pad, waterproof lining, stroller straps, coordinating wristlet and even an insulated bottle holder.
2. StorkSak Gigi
Carried by Angelina Jolie, Ashlee Simpson, Rebecca Gayheart and Gretchen Mol, StorkSak makes diaper bags in a variety of styles.  We like the clean lines and classic look of the StorkSak Gigi ($230 storksak.com). Made of satin nylon with leather straps, the Gigi has large pockets, a detachable organizer, padded changing mat, thermo-insulated bottle holder and even fits a laptop.
3. Mia Bossi Caryn

With prices ranging from $200 to over $1200, a Mia Bossi diaper bag is definitely an investment. Fans of the bag include Jennifer Lopez, Kate Hudson, Tori Spelling, Salma Hayek, Katie Holmes, Natasha Henstridge and Milla Jovovich. One of Mia Bossi's more expensive bags is the Audrey ($1,210 miabossi.com) but we really love the more reasonable Mia Bossi Caryn ($250 - $600 miabossi.com). The bag has a faux fur changing pad (machine washable), zip-in and zip-out inside lining (additional insert for computer or briefcase available) and plenty of pockets.
4. Not Rational Hansel
Popular with celebrity moms and dads alike, Not Rational Diaper Bags are utilitarian, practical but still fashionable. We've spotted Sarah Michelle Gellar (and hubby Freddie Prinze Jr), Maggie Gyllenhaal, Christina Aguilera, Chris Robinson, Christy Turlington and Jessica Alba carrying one of their bags. We love the Not Rational Hansel bag ($595 notrational.com) which is made from soft Italian leather, and comes with a matching leather(?!) changing pad, water-resistant lining, and lots of pockets.
5. Ty Lucas Amore Tote
This oversized tote is taller than the average diaper bag, perfect for parents of twins. The Ty Lucas Amore Tote ($345 tylucasbaby.com) is roomy enough to fit all the essentials, clutter-free.  Better still, the bag is lined with a material that naturally suppresses the growth of bacteria, mold, and fungus, so pockets, interior walls and the changing pad are safe and clean. The Amore tote also contains hidden inner straps that clip quickly and neatly onto your stroller handles.
6. Gucci
Gucci handbags have been a favorite of celebrities for years, so it makes sense that their diaper bags would be just as popular with celebrity moms.  The classic style is great for moms and dads. Halle Berry and Nicole RIchie have both been spotted carrying the Gucci Logo Diaper Bag ($990 gucci.com). The bag has stroller snaps and a fold out padded changing mat, but this bag is less about function and more abut status, right?
7. Petunia Marmalade Fondant Cake Hampton Holdall
A fave of stylish L.A. moms, Petunia owners include: Gwen Stefani, Mel B, Sandra Bullock, Kate Hudson, Katie Holmes, Amanda Peet, Marcia Cross, Julia Roberts, Heidi Klum and Mariska Hargitay, just to name a few! Petunia diaper bags range from cutesy to chic, but we especially love the sophistication of the Petunia Marmalade Fondant Cake Hampton Holdall ($760 petunia.com). All this talk of cake is making us hungry!
8. Kate Spade Stevie Baby Bag

Tangerine is the color to wear this spring, so why not show off with Kate Spade's Fingers Nylon Stevie Baby Bag? ($418 katespade.com) The bag has a custom woven wipeable nylon lining, interior slide pocket, and comes with a changing pad and stroller straps.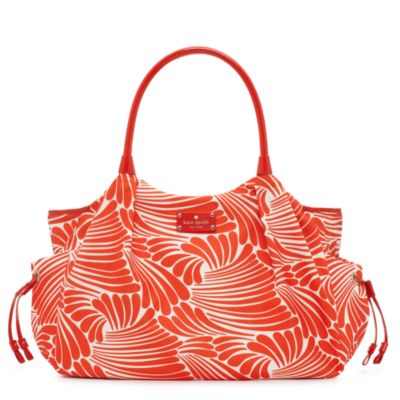 9. Jamah The Nanny
A truly unisex diaper bag Jamah's The Nanny ($775 jamah.com) is a favorite of Brad Pitt and Jessica Alba.  It looks deceptively like a traditional messenger bag, but has 6 exterior pockets, 4 interior pockets, utility lining, changing pad and a detachable flower detail.
10. Prada Nylon Baby Bag
The classic Prada Nylon Baby Bag ($1,140 saks.com) carries a hefty price tag. What do you get for your money? The nylon tote comes with a changing pad and bottle cover, and has an adjustable shoulder strap so the bag can be worn over your shoulder or messenger-style. There are also tons of pockets, but we bet the big draw is that it's Prada! And a favorite of Jessica Alba.
With all these fantastic diaper bags, there's no reason you can't be a stylish mom.  Just list the one you want on GiftSimple and raise contributions from friends and family. Your dream diaper bag will be hanging from your stroller in no time! Which is your favorite? Let us know in the comments below.