GiftSimple
Mar 02
Birthday Freebies: San Francisco Food Edition
We love gifts and we want everyone to get the gift he/she really wants.  While GiftSimple is the perfect tool to raise money for that big-ticket item, not all great things must cost a lot. And if it's your birthday, you can get stuff for free!  We've tweeted before about birthday freebies:
Here's a more detailed post about birthday freebies at restaurants in and around San Francisco. And if you don't live in San Francisco, don't fret, some of the freebies are available nationwide! We'll be posting about free stuff in other cities, so tweet us, write on our Facebook wall or comment below to suggest the next city! All promotions are subject to change so call ahead to double check the freebies are still being offered. 
Hungry? Here are some local restaurant freebies for the birthday boy or girl:
Inkas Restaurant (3299 Mission Street): Dine in on your birthday and receive a free cookie.
Cybelle's Front Room Restaurant (1385 9th Ave): Dine in on your birthday and receive a free dessert with candle.
Cafe Pescatore (2455 Mason St): Dine in on your birthday and receive a free dessert after your meal.
Uptown Joe's (1500 Sutter St): Dine in on your birthday and receive a free dessert after your meal.
Little Henry's (955 Larkin St): Dine in on your birthday and receive a free dessert after your meal.
Fresca Restaurant (3945 24th St): Dine in on your birthday and receive a free Dessert after your meal.
Jay's Cheese Steak (3285 21st St): Dine in on your birthday and receive free French Fries.
Chevys Fresh Mex (3251 20th Ave): Dine in on your birthday and receive a free sundae after your meal.
Restorante Gondola (15 Columbus Ave): Dine in on your birthday and receive a free dessert after your meal.
Oriental Restaurant (1107 Market St): Dine in on your birthday and receive a 10% discount on your meal.
Venticello (1257 Taylor St): Dine in on your birthday and receive a free piece of tiramisu.
Check out Birthday Freebies for more restaurant deals in your local neighborhood.  
Like chain restaurants? Here are some birthday freebies that can be found at restaurants in San Francisco and at locations nationwide. 
Applebees: Free dessert and song
Arby's: Free 12 oz shake
Aunt Annie's: Free Pretzel with Pretzel Perks club membership
Baskin Robbins: Get a free ice cream treat when you sign up for their Birthday Club
Ben & Jerry's Ice Cream: Become a Chunk Spelunker and receive free scoop of ice cream!
Benihana: Join "The Chef`s Table" online club and receive a great gift on your birthday ($30 gift certificate.)
Carrabba's: join AMICI club and receive a Free dessert 
Chevy's: Free dessert
Chili's: Join Chips N Giggles for a free Brownie Sundae with your entree purchase
Coldstone Creamery: Join now for a free ice cream
Cracker Barrel: Free dessert
Dairy Queen: Free Blizzard
Del Taco: Free premium shake when you join the raving fan e-club, plus 2 chicken tacos for joining
Denny's: Free Grand Slam
Dunkin' Donuts: Free Medium Coffee card will be mailed to you when you sign up for perks
Fazolis: Free Dessert
Fudruckers: Join the Fudds Club for discounts and a free shake with purchase on your birthday
Great American Cookies: Free slice of cookie cake!
Hodaks: Free meal on your actual birthday
Hometown Buffet: Join the Mega Bar Meal club and get not only a free meal on your birthday, but a free meal just for signing up!
Hooters: 10 free wings!
Houlihan's: Free entree up to $15
IHOP: Free Meal 
Jack In The Box: Free dessert on your birthday, you have to register
Jake's Steaks: Buy 1 dinner get 1 free during your birthday month
Joe's Crab Shack: Free appetizer with purchase of 2 entree's, join Joemail
Kobe Steak House: Free dinner anytime during your birthday month when you sign up for the rewards club
Macaroni Grill: Free dessert plus a song. If you join the Mac Pack you receive a free appetizer for your next visit
Maggiano's Little Italy: join the e-mail list and receive free dessert redeemable during your birthday month
Maggie Moos: Free Ice Cream Cone
Mimis Cafe: Free entree with your purchase of an entree and 2 drinks
Noodles & Company: Sign up for their newsletter and they'll send a coupon for a free meal for your birthday
O'Charley's: Sign Up for the E-Club news and receive $5 off of your $20 purchase
Orange Julius: Free 20 oz Julius Fruit Smoothie
Outback Steakhouse: Free dessert or appetizer
P.F. Chang's: Free cake or cheesecake via their e-mail list
Qdoba: Join the eClub for a free burrito
Quizno's: Join their mailing list for a free cookie
Red Lobster: Free slice of cake if you join their Overboard Club
Red Robin: Free Gourmet Burger if you sign up for the E-club
Ruby Tuesday: Free Burger!
Schlotskys: free small or regular Sandwich
Smoothie King: Free 20 oz Smoothie, Join the Kingdom
Sonic: Sign up and receive your choice of Tots, a Cream Slush or a Medium Drink
Souper Salad: Join their Souper Salad Club and they'll e-mail you a coupon for free lunch or dinner buffet
Starbucks: Free drink
Taco Bell: Free combo meal of your choice with photo id and proof of your birthdate
TGI Friday's: Free dessert with the purchase of an entree when you sign up for Friday's e-club. You also receive a free appetizer just for signing up!
The Drunken Fish: Coupon for a bottle of wine during your birthday and anniversary month
The Melting Pot: Free dessert coupon during your birthday month, plus extras throughout the year
Tony Roma's: Free dinner or dessert on your birthday when you become a Roma's Rib Expert
Uno's Pizza: Sign up and get a free personal pizza on your birthday
Wendy's: Receive a free treat on your birthday when register for Wendy Mail, plus a $1 coupon
Check out the blog My San Francisco Mommy for even more birthday freebies. 
Check back soon for some fun free birthday activities.  And be sure to let us know what other cities you want us to write about. 
Dec 03
Holiday Gift Guides-Guide
It seems like every magazine, blog, talkshow, website, newspaper, know-it-all has a 2012 holiday gift guide.  While that means there's a gift-guide for any reciepient, how do you find the best one?  We've taken on the challenge and after reading around 50 holiday gift guides, here are our favorites. Just click on the links to go directly to the gift guide!
 
1. Comprehensive Gift Guide For All the Cool People You Know (wired.com)
2. Creative Gift Guide For An Eclectic Recipient (realsimple.com)
3. All Things Tech Gift Guide (cnet.com)
4. I'm a Lazy New Yorker Gift Guide (timeout.com)
5. Gift Guide For the Men In Your Life (menshealth.com)
6. Experiential Gift Guide (nymag.com)
7. Oprah's Favorite Things (oprah.com)
8. Gift Guide For Picky Women (popsugar.com)

Have you come across a great 2012 Holiday Gift Guide? Share it with us in the comments, on GiftSimple's Facebook page or tweet us @GiftSimple! And remember, if you want to make sure you get the gift you really want for the holidays, list it on GiftSimple and collect contributions from friends and family.
Sep 06
Birthday Tidbits & Trivia

We love birthdays at GiftSimple. And we believe that everyone should get a gift they really want. But where did the practice of birthday celebrations come from? We did a little digging (i.e. searched the internet) and came up with the following birthday trivia. Let us know what you think in the comments or on our Facebook page. Have you heard any of these tidbits before?

1. The first birthday celebrations were pagan in nature. It was believed that on a person's birthday he is susceptible to evil spirits so family and friends would gather around the birthday celebrator to protect him.

2. The early Christians and Jews rejected the celebration of birthday as it was considered idolatrous. This changed during the Roman Empire, due to the prominent religion at the time, Mithraism, which was later supplanted by Christianity.

3. The custom of lighting a birthday cake with candles began with the Greeks who worshipped Artemis, the goddess of the moon. That's why the traditional shape of a birthday cake is round, to imitate the moon. The candles represent the moon's glow.

4. Close to two billion Birthday Cards are sent each year in the U.S. alone, accounting for nearly 58 percent of all cards sent. Wouldn't you prefer a contribution to your gift on GiftSimple?

5. The most common birth date in the US is October 5 and the least common is May 22.

6. The day of the week in which the most babies are born is Tuesday while the fewest are born on Sunday.

7. The Sultan of Brunei hosted the world's most expensive Birthday Party to celebrate his 50th Birthday on July 13, 1996. The cost was $27.2 million.

8. You might celebrate your birthday every year, but your actual birthday only occurs once every 7 years. Not counting the leap years, the date you were born on moves each year to the following day of the week. This means your annual celebration is actually for your birth-date - not your birth-day! In truth the actual day you were born on occurs only every 7 years.

9. The melody of "Happy Birthday to You" comes from the song "Good Morning to All", which was written and composed by American siblings Patty Hill and Mildred J. Hill in 1893.

10. A person's Golden or Grand Birthday, also referred to as their "Lucky Birthday", "Champagne Birthday" or "Star Birthday", occurs when they turn the age of their birth day (e.g. when someone born on the 23rd of the month turns 23).

11. In some historically Roman Catholic and Eastern Orthodox countries it is common to have a 'name day' or 'Saint's day'. It is celebrated in much the same way as a birthday, but is held on the official day of a saint with the same Christian name as the birthday person.

How many of these have you heard before? Leave a comment or post on our Facebook page. And remember, if you're saving up for something, GiftSimple can help you pool contributions from friends and family. Get the stuff you want from the people you know!

Source: Wikipedia, The Holiday Spot, philSTAR and others
Aug 22
GiftSimple's Most Outrageous Gift List (Part 2)
GiftSimple can be used to collect contributions for any gift you can dream up. As a continuation of our "
Most Outrageous Gift List (Part 1)
" here is Part 2. 
Comment below on which gift you think is most outrageous. And be sure to list a gift of your own on GiftSimple (perhaps one of the gifts below will inspire you!)

Alabama Dog Mansion ($7,200 fancy.com)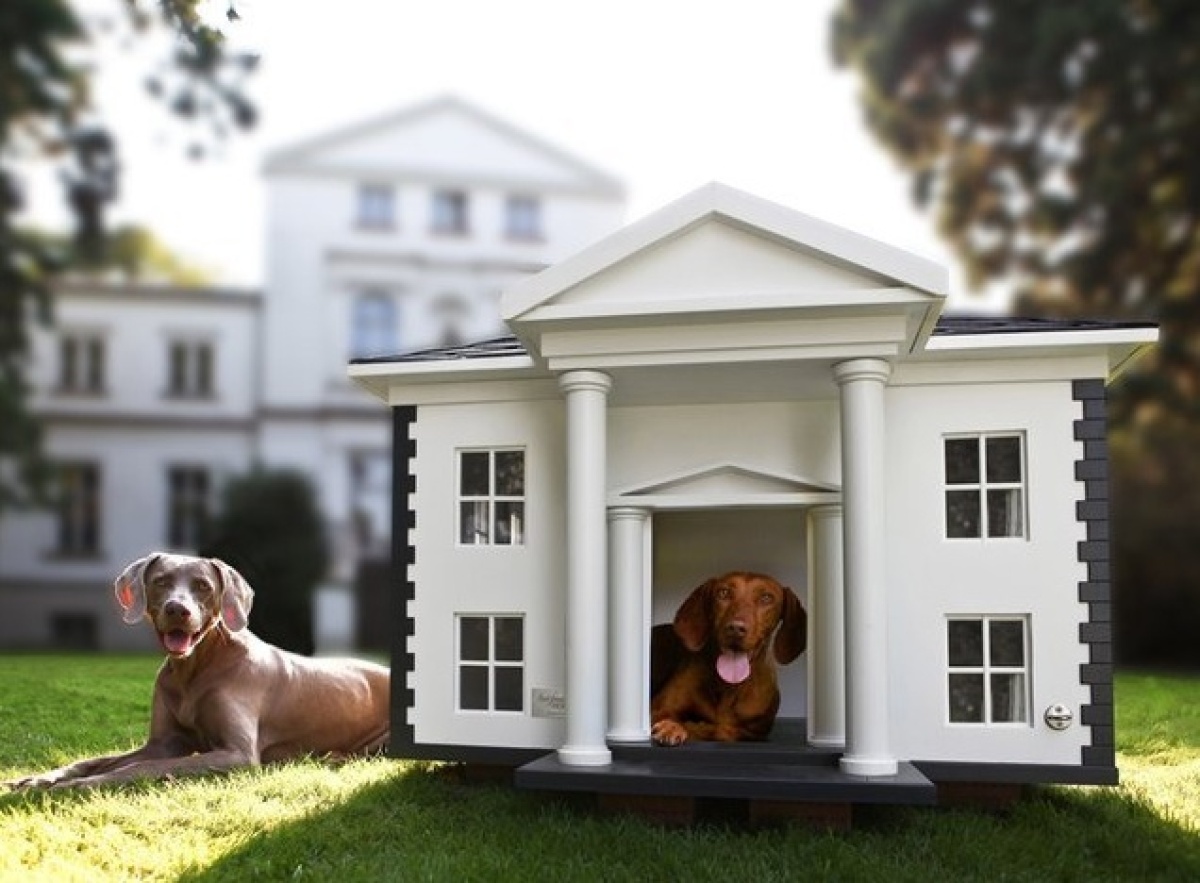 This doghouse is bigger than my NYC apartment.

'Sundead' By Luciano Podcaminsky ($2,500 fancy.com)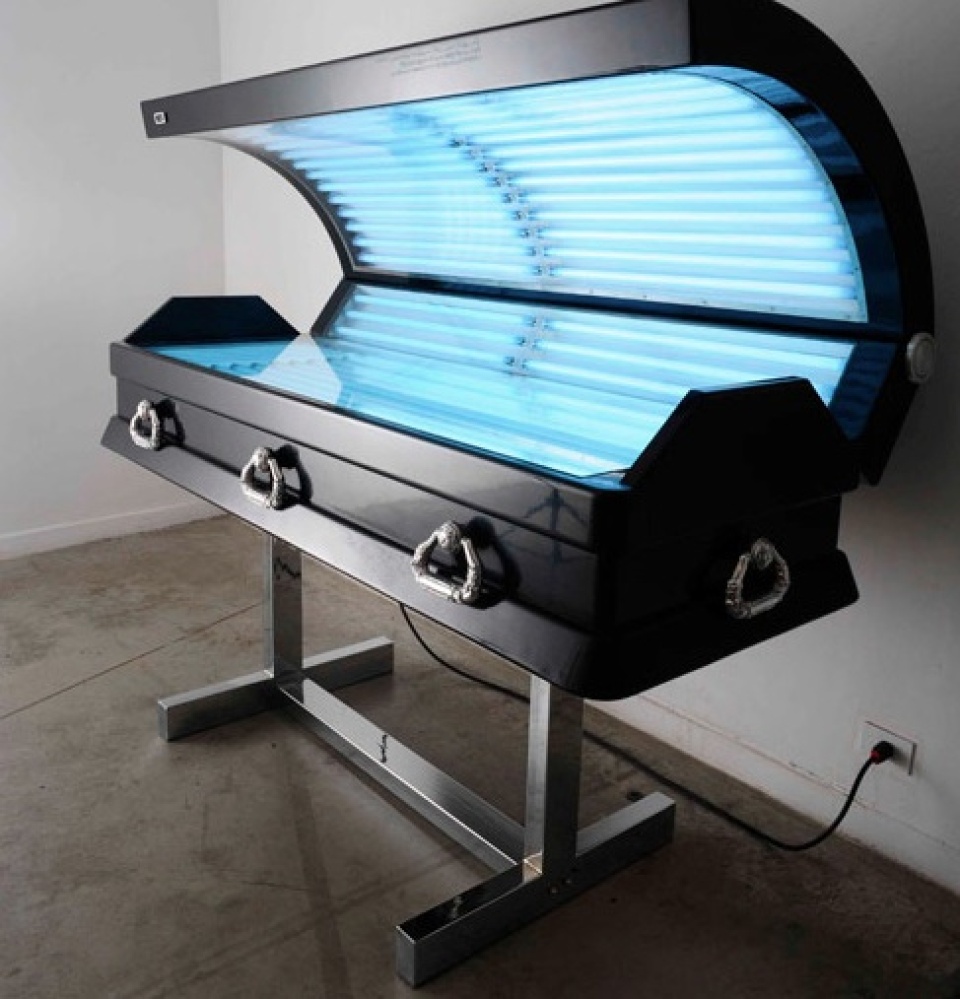 I'm not sure what's worse, owning a personal tanning bed or your own coffin? 

Flick Knife Briefcase ($2,636 fancy.com)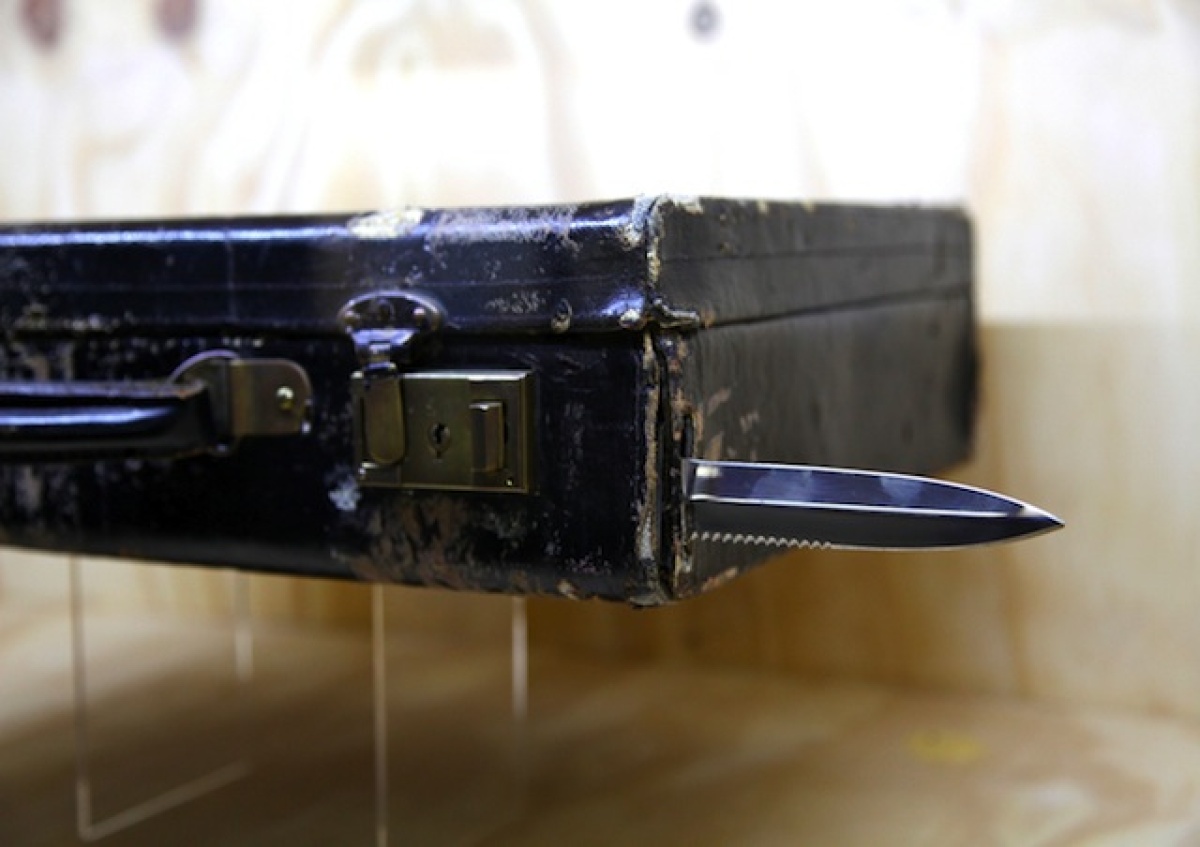 I don't think this will make it past airport security.

Star Wars Interactive R2D2 ($200 fancy.com)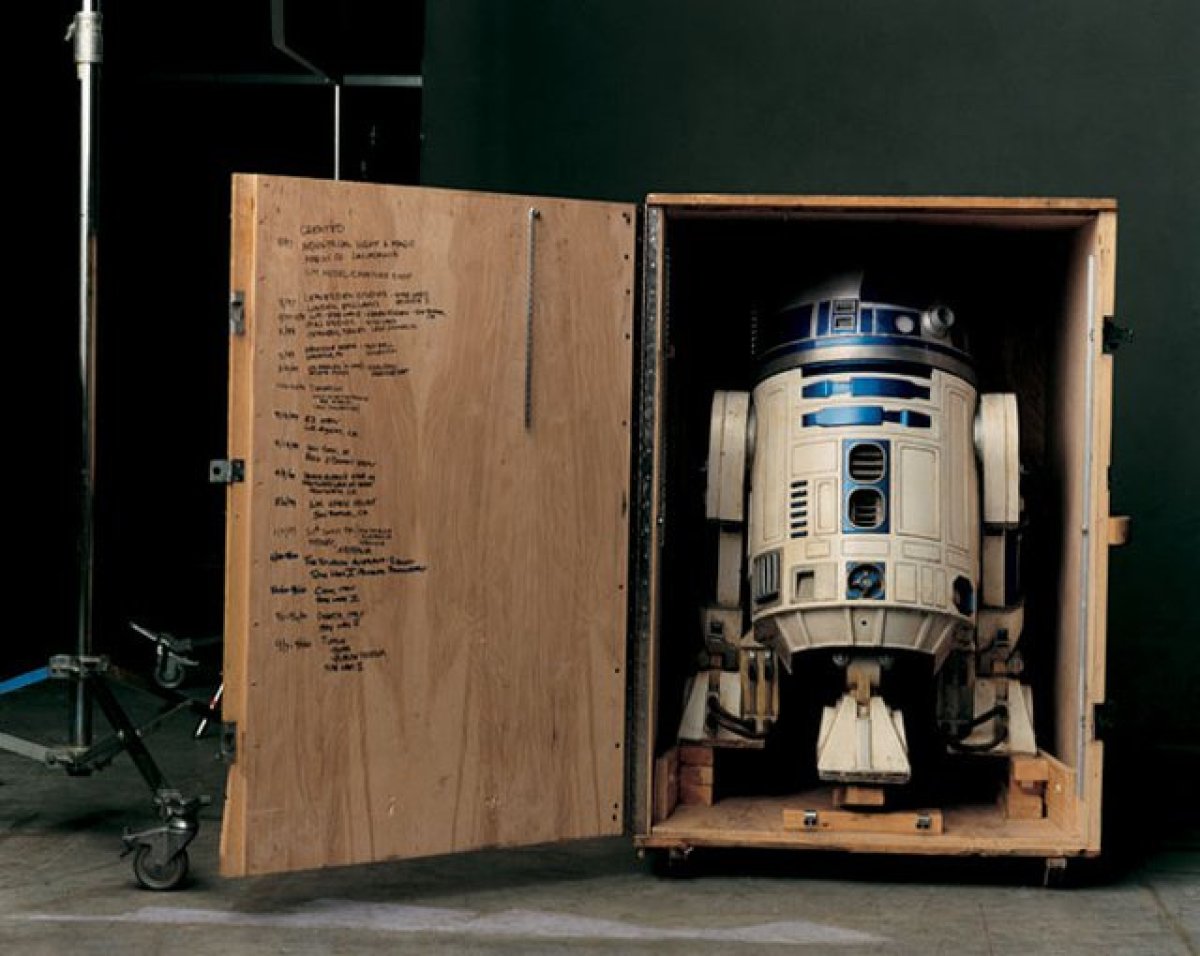 Can R2D2 mix a drink? Maybe this isn't so outrageous after all…

Bronze Dove By Luis Fernando Ponce ($1,500 fancy.com)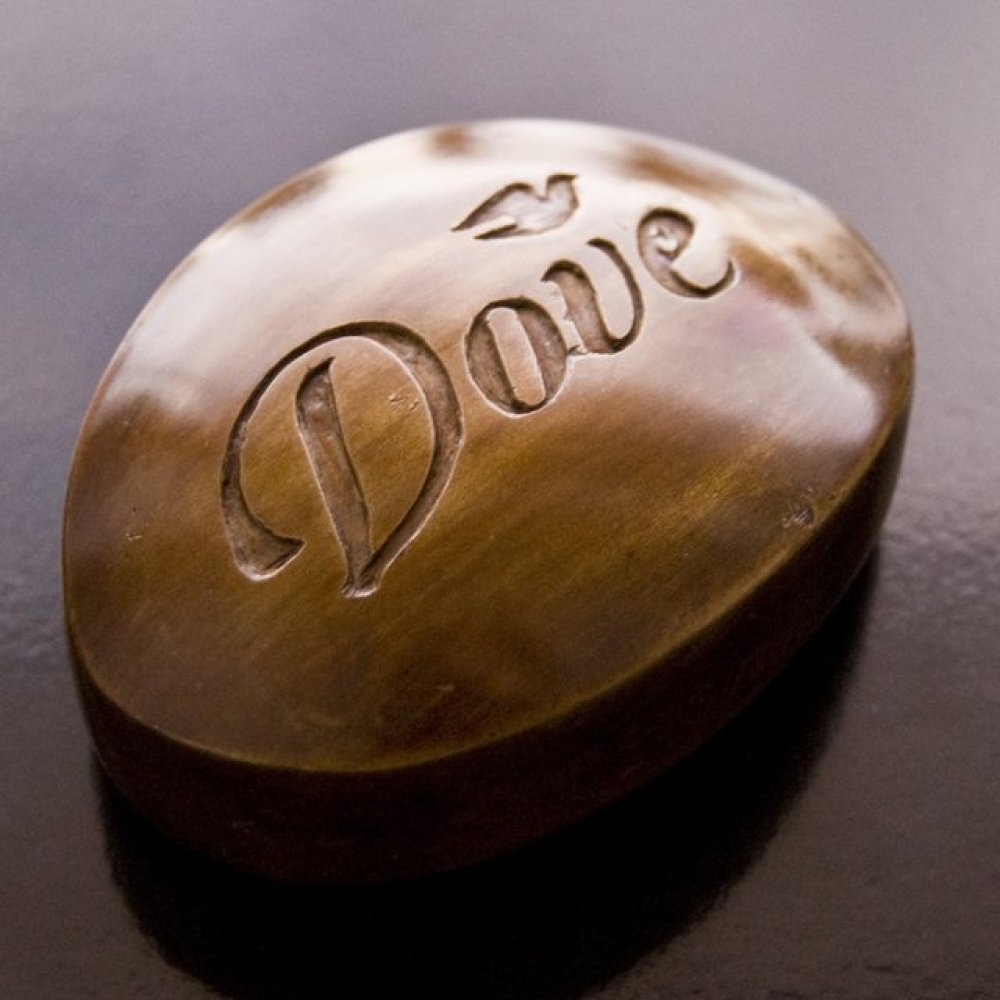 At first I thought this was really expensive chocolate. Turns out it's just a bronze bar of soap.

Will you be adding any of these to your GiftSimple wishlist?
(Source: The Huffington Post)
Aug 18
Celebrity Wishlist: Rebecca Minkoff
We continue our Celebrity Wishlist series with fashion designer Rebecca Minkoff. Who better to know about the "must have" items than a designer? Fashion is her livelihood! Rebecca made a name for herself with her chic handbags, like the Morning After Bag, found on celebs, fashion bloggers and trendsetters everywhere. So what does one get the woman who has great taste and has it all? Elle magazine asked just that. Here is what Ms. Minkoff would put on her GiftSimple wishlist. Tell us, would you put any of these things on your wishlist? 
 
Chloe Studded Leather Buckle Ankle Boots ($1,345 saks.com)
What it is: These versatile ankle boots feature gold studded leather with three adjustable buckle straps on a two inch stacked heel. 
What Rebecca had to say: "I'm a jeans and T-Shirt girl, but I like to focus on great shoes and handbags, because they can dress up any outfit."


Lauren Sleeveless Shift by Rebecca Minkoff ($598 bloomingdales.com)
What it is: Edgy, yet feminine, this mod shift dress is rendered in soft lambskin leather with cutout detail at the back.
What Rebecca had to say: "Leather is a great update for an LBD."


Marysia Swimsuits ($189+ shopbop.com)

What it is: Textured bikini set with scalloped edges and boning at the ruched cups.
What Rebecca had to say: "Marysia Swim! They are all so flattering! Antibes Scallop Bikini (left) and Acapulco Ball Bikini (right)."


Vacation to Harbour Island in the Bahamas

What it is: Famous for its pink sand beaches, Harbour Island is located off the northeast coast of Eleuthera Island in the Bahamas.
What Rebecca had to say: "I just got back from an amazing vacation with my family on Harbour Island in the Bahamas. I had never been before and thought it was just the most adorable charming place! For the rest of the summer I'll be going out east with my husband and son. I just opened a pop up shop in the Sole East Resort, which I love visiting."

Thank you Rebecca for sharing your wishlist!


Rebecca Minkoff is a New York-based fashion designer. The San Diego, CA native attended the Fashion Institute of Technology in NYC and then launched her handbag collection in Spring 2004. Minkoff launched apparel and accessories in Spring 2010.




GiftSimple's Celebrity Wishlist for Shenae Grimes can be found here.
Aug 13
Back to School Tech Gifts on GiftSimple
August is in full swing and that means "Back to School" is just around the corner. When I look back on college, I remember the fun, the freedom and all the friendships; but, we tend to look back with rose-colored glasses, forgetting about all the stress and anxiety we felt. So if your child, or someone you know, is heading off to school soon, he or she might be freaking out. How can you help? By making sure they have everything they need to succeed. CNET has published its annual back to school tech guide, comprising gift ideas for any budget. Here are their Top 5:
All-in-one Printer
It might be the norm to submit papers via email but there are still times when it will be necessary to do it the old-fashioned way - paper and ink.  The Epson Stylus NX430 can help with any students printing-copying-scanning-faxing needs for $80. 
Camera
Unless you want your kids college experience documented as a shmorgas-board of Facebook photos, a real camera might be a good gift idea. CNET picks the Canon EOS Rebel T3i for $610.

Mindless Entertainment
School might be a place for learning, but sometimes a student just need a break. That's where gifts like a new TV or Roku box come in. Perhaps these gifts will result in more movie-nights and fewer keggers. Suggested models include the Panasonic TC-P50ST50 for $1,200 and the Roku HD for $60. 
Computer
A computer is likely the most important tool for any student. Students will need a solid computer for trolling Facebook, downloading music, and of course writing papers at 3am. CNET suggests a Dell Inspiron 14z for $900.


Smartphone
Students will have one less excuse for not calling if you buy them a smartphone before heading back to school. Rumors have the new iPhone coming out in September, so hold off buying one now. Instead, CNET recommends the Motorola Droid Razr Maxx for $100. Students will appreciate it's long battery life and durability. 

Let us know in the comments what back to school gifts you're planning to buy and what you think about the picks above.  What will you be listing on GiftSimple?
Jul 25
Celebrity Wishlist: Shenae Grimes
If you had tons of cash and designers throwing their wares your way, what would you put on your GiftSimple registry?  Thanks to her blog, we know what is on Shenae Grimes's wishlist. Let us know what you think of these items. Would you put any of them on your GiftSimple registry?
 
1. Pamela Love Brass Pentagram Cuff ($395 barneys.com)
What it is: 6-inch brass cuff.
What Shenae had to say: "I'm all about statement jewelry on the rare occasion that I wear any at all and my pal, Pamela Love, is the queen of gorgeous, edgy hand-made metal statements that anchor any simple look. A majority of my jewelry is from Love's collections and I'm always looking for new additions. I think this pentagram cuff may be up next!"


2. Alexander Wang Diego Bucket Bag ($825 barneys.com)




What it is: Pebbled leather bucket bag with drawstring closure that doubles as handle and exterior front pocket with drawstring closure that doubles as shoulder strap. Open pocket at back, antique brass-tone stud trim and studded base.
What Shenae had to say: "For some time now, my Chanel bucket bag has been my go-to, everyday bag. It's super practical, durable and who doesn't love a little Chanel? But for the past couple of weeks, I've had my eye on this Alexander Wang bucket bag and am in love! From the studs to the drawstring look, this bag is definitely next on my wishlist!" 


3. Valentino Studded Ankle-Wrap Sandal ($995 neimanmarcus.com)
 


What it is: Glossy patent leather upper with napa leather straps and signature Valentino platino pyramid studs. Three ankle straps with adjustable buckles; connect to halter strap for secure fit. 
What Shenae had to say: "A girl can never have too many black slingbacks! They're such good wardrobe staples, and I never seem to run out of ways to wear them.  Passed these Valentino heels while shopping one day and immediately fell in love. Dear fashion gods– help a girl out!"


4. Gold Rolex ($16,825 rolex.com)


 

What it is:  The 18K Yellow Gold Rolex Yacht-Master is a sleek sportsman's watch with functional prowess. The crisp-white dial is surrounded by an impressive unidirectional rotating bezel in brushed 18K yellow gold w/ polished Arabic numerals. A combination of polished and brushed 18K gold marks the Oyster bracelet as well. Originally created to meet the demands of the sailor, the 18K yellow gold Yacht-Master has the opulence and sophistication for everyday. 
What Shenae has to say: "I'm not sure if I saw it in a dream once upon a time or on an Olsen but, either way, the only watch I've ever wanted was a chunky men's-inspired gold-on-gold Rolex. Like many other millennials, my only necessary source of time is my cell-phone so the only watches I've ever bought, have been $10 knock-offs from the airport. I'd sure be happy to kick it old-school for one of these babies though. #dreamland"


5. Ralph Lauren Gold Beaded Cardigan - Look 36, Kristina, Fall 2012 (ralphlauren.com)
 


What it is: Embellished gold cardigan from Ralph Lauren's Fall 2012 collection.
What Shenae has to say: "Flipping through fashion mags and spotted this Ralph Lauren gold cardigan and immediately fell in love! With it's bold texture and loud color, I for sure need to add this statement piece to my wardrobe!" 

Thanks Shenae for sharing your fashion wishlist with your fans!
 
Shenae Grimes is a Canadian-born actress currently starring as "Annie" on 90210, the CW remake of the popular series Bevery Hills 90210.
Jun 13
Get Dad the Gift He Really Wants for Father's Day
Dad might say "I don't want anything" when you ask him what he wants for Father's Day. And he might be happy with a phone call and and "I love you," but what if you could help him buy something he's been saving for - the gift he really wants but can't, or won't, buy himself? GiftSimple can help you organize a group gift for Dad. And if you're the kind of person that waits until the last minute, don't fret - GiftSimple is quick and simple! Learn more at GiftSimple.com or by visiting our app on Facebook.
Here are a few Father's Day gift suggestions. Let us know what you think in the comments below.
1. Apple iPad ($499 apple.com)
Is your Dad the only one of his friends without an iPad? Does he keep coming up with an excuse to use yours?  Now's the perfect time to chip in an buy it for him.

2. Flying Lessons or Other New Experience ($500+ pilotjourney.com)
Why not help Dad afford that new experience he's been wanting to try. Whether it's learning to fly a plane, golf lessons, car racing or a yoga retreat, GiftSimple can help you pool money from friends and family to help Dad experience something new!


3. Wine Tour or a Great Bottle of Wine ($200+ winemag.com)
Has Dad been dreaming about going on a wine tour of Tuscany or Bordeaux? Help make his dream a reality. Or consider buying him a great bottle of wine from that region with a note suggesting he list the trip on GiftSimple and start saving up for next year! 


4. Sports Tickets ($150+ stubhub.com)
Whether Dad prefers baseball, football, basketball, hockey, or NASCAR, tickets to a big sporting event are a great way to make him happy and spend some quality time together. 


Let us know in the comments what gifts you gave Dad this year. 
Happy Father's Day! Love you Dad!
May 20
Creative Ways to Give Cash Gifts
The end of the school year means it's time for graduation gifts and teachers' gifts. Our last post outlined Practical Gifts for Grads using GiftSimple (see below). Cash is the most practical gift, but can sometimes seem impersonal.  Here are a few ways to get more creative with cash giving:
1. GiftSimple (of course!)
GiftSimple is a social gift registry, where users register for gifts and tap into their Facebook network to pool contributions from friends and family. It's like layaway, with a little help from your friends. And GiftSimple can also be used to organize group gifts for others. Perfect for end-of-year teacher gifts, or that friend who won't tell you what he/she wants. Visit us at GiftSimple.com, follow us on twitter @GiftSimple, visit out page on Facebook, and view our boards on Pinterest.
2. Box of Chocolates Money (lifeasmom.com)
This clever gift is sure to get a smile. While it's a great way to give your Grad cash, it can be used for almost any occasion. If the gift recipient is leaving on a trip, you can include the currency of their destination.
3. Money Soap (everynothingwonderful.com)
Talk about delayed gratification! Putting money in soap might be slightly cruel but it is definitely creative. And a great way to make sure your Grad keeps his hands clean!
Do you have other creative ways to give cash gifts? Tell us in the comments below or write on our Facebook Wall.
Happy Cash Gifting!
May 14
Practical Gifts for Grads on GiftSimple
Congratulations class of 2012!  Instead of managing an inventory of giftcards or returning unwanted gifts, why not get the graduation gift you really want? Too expensive for one person to buy? GiftSimple can help you crowdfund it.
Here are a few gift suggestions:

1. Camera ($950 canon.com)
Say cheese! Use a new camera to capture the big day, and then whatever comes next. Whether digital, SLR or video, a new camera is a practical gift that can be used to capture milestones yet to come. 


2. Furniture ($800+ ikea.com)
Recent graduates probably don't have a lot of furniture. And now they have either a dorm room or new apartment to furnish.  A furniture fund is definitely a better alternative to picking up a couch off the side of the road!
3. Moving Expenses ($750+ uhaul.com)
Recent graduates may not have a lot of furniture (see above) but moving what they do have can still add up. Whether going away to college, moving into a new apartment, or back home with Mom & Dad, contributing to a Moving Fund can help pay for a U-Haul truck, professional movers, and even storage containers. 


4. Travel Fund ($500+ tripadvisor.com)
Planning a trip with friends before everyone goes his/her separate way? Traveling can be expensive. Help a recent grad set out on an adventure by contributing to a Travel Fund. The money raised can be used on plane tickets, hotels/hostels, luggage, food, etc. Bon Voyage!


5. Watch ($2,500 cartier.com)
A watch is a gift that can last a lifetime and even be passed down to the next generation.  And what better occasion than graduation to bestow this gift? Classic timepieces like a Cartier Tank are a popular choice. 


6. iPad / Laptop ($499+ bestbuy.com)
A new laptop or iPad is the perfect gift for a recent graduate. From writing papers to keeping in touch with friends, a new computer or tablet can keep a recent grad connected.  


7. Memberships ($200+)
Independence can be expensive. Help a recent graduate afford his/her living expenses. Gym memberships, bulk food warehouse memberships, or even a Netflix subscription can all help a recent graduate save money on his/her entertainment expenses.  


8. Briefcase ($425 jackspade.com)
Whether interviewing for a summer internship or starting a new job, a recent graduate should leave a backpack behind.  Contribute towards a new bag or briefcase for a more professional look.


9. New Wardrobe ($500+ brooksbrothers.com)
Recent graduates need at least one nice suit - for an internship interview or a new job. Help fund a new wardrobe for the next chapter. 

Did you know that the idea for GiftSimple originated from Founder Jessica Lachs's own gifting experience at her graduation?  Learn more about the story here.
Let us know what you think of our gift recommendations in the comments below or share with us on our Facebook page!  Happy Gifting! 
May 07
Get Mom the Gift She Really Wants this Mother's Day
Mom might be happy with a phone call and an "I love you" for Mother's Day, but what if you could help her buy something she's been saving for - the gift she really wants but can't afford to buy herself? GiftSimple can help you organize a group gift for Mom.  Learn more at GiftSimple.com or by visiting our app on Facebook.
Here are a few Mother's Day gift suggestions. Let us know what you think in the comments below.
1. Apple iPad ($499 apple.com)
Is your Mom the only one of her friends without an iPad? Does she keep coming up with an excuse to use yours?  Now's the perfect time to chip in an buy it for her.
2. Spa Day ($200+ spafinder.com)
Has Mom been stressed recently? Give her a much needed day of relaxation and pampering. Whether she would prefer a seaweed wrap, swedish massage or yoga retreat, Mom deserves some R&R.
3. Jewelry ($185+ mayabrenner.com)
Who doesn't like a nice piece of jewelry? We love these mini-letter bracelets from Maya Brenner. We're not the only ones, celebs like Cameron Diaz, Demi Moore and Eva Longoria have all been spotted wearing one.  Mom can keep her kids [initials] close at hand!  
4. Camera ($950+ canon.com)
How better to capture Mother's Day memories than with a new camera. Digital, SLR or video, a new camera is sure to put smiles on everyone's face!
5. Weekend Getaway ($600+ tripadvisor.com)
Does Mom need some alone time with Dad? A girls trip with her best friends? Pool funds from Mom's friends and family and surprise her with a weekend getaway. 
6. Remodel Fund ($2,500+)
Has Mom been dreaming about a new kitchen? Remodeling the master bathroom? Expanding her closet? Mother's Day is the perfect occasion to help with her project by contributing to her Remodel Fund. 
We think Mom would love any of these gifts, what do you think? What are you doing for Mother's Day? Let us know in the comments. 
Apr 16
10 Diaper Bags For the Stylish Mom (and Dad)
GiftSimple can be used for any occasion but this time we're talking babies!
After splurging on a Louis Vuitton Black Epi Leather Alma Handbag, my friend found out she was pregnant.  There was no way she could carry the baby-essentials in that bag! The hunt for a fabulous diaper bag was on. I suggested she list the diaper bag she wanted on GiftSimple and our group of girlfriends could chip in to buy it for her. Nothing against onesies and burp cloths but mommy-to-be had the biggest smile on her face when she went out, money in hand, and bought her dream diaper bag. Whether it's furniture for the nursery, a pricey stroller or a fantastic diaper bag, GiftSimple is the smart way to get the big-ticket items you really want.
Diaper bags need to be functional, but that doesn't mean they can't be fashionable.  Celebrities have big budgets and stylists on retainer so where better to look than what's slung over their shoulders or strapped to their strollers; but, not all the bags on the list have celebrity owners or celebrity price tags. Here are some of the most stylish diaper bags currently on the market.  Comment below to let us know what you think!
1. Timi and Leslie Charlie
Having one celebrity carry your bag is great but eight is a major coup! Victoria Beckham, P!nk, Alyssa Milano, Courtney Cox, Nicole Kidman, Faith Hill, Jessica Alba and Kourtney Kardashian all own a Timi and Leslie Convertible Diaper Bag. The Charlie ($160 shoptimiandleslie.com) is edgy and cosmopolitan—a perfect combo for the stylish mom.  Timi & Leslie diaper bags are designed to look like regular, stylish handbags, but inside they're loaded with mom-friendly features: tons of pockets, a changing pad, waterproof lining, stroller straps, coordinating wristlet and even an insulated bottle holder.
2. StorkSak Gigi
Carried by Angelina Jolie, Ashlee Simpson, Rebecca Gayheart and Gretchen Mol, StorkSak makes diaper bags in a variety of styles.  We like the clean lines and classic look of the StorkSak Gigi ($230 storksak.com). Made of satin nylon with leather straps, the Gigi has large pockets, a detachable organizer, padded changing mat, thermo-insulated bottle holder and even fits a laptop.
3. Mia Bossi Caryn

With prices ranging from $200 to over $1200, a Mia Bossi diaper bag is definitely an investment. Fans of the bag include Jennifer Lopez, Kate Hudson, Tori Spelling, Salma Hayek, Katie Holmes, Natasha Henstridge and Milla Jovovich. One of Mia Bossi's more expensive bags is the Audrey ($1,210 miabossi.com) but we really love the more reasonable Mia Bossi Caryn ($250 - $600 miabossi.com). The bag has a faux fur changing pad (machine washable), zip-in and zip-out inside lining (additional insert for computer or briefcase available) and plenty of pockets.
4. Not Rational Hansel
Popular with celebrity moms and dads alike, Not Rational Diaper Bags are utilitarian, practical but still fashionable. We've spotted Sarah Michelle Gellar (and hubby Freddie Prinze Jr), Maggie Gyllenhaal, Christina Aguilera, Chris Robinson, Christy Turlington and Jessica Alba carrying one of their bags. We love the Not Rational Hansel bag ($595 notrational.com) which is made from soft Italian leather, and comes with a matching leather(?!) changing pad, water-resistant lining, and lots of pockets.
5. Ty Lucas Amore Tote
This oversized tote is taller than the average diaper bag, perfect for parents of twins. The Ty Lucas Amore Tote ($345 tylucasbaby.com) is roomy enough to fit all the essentials, clutter-free.  Better still, the bag is lined with a material that naturally suppresses the growth of bacteria, mold, and fungus, so pockets, interior walls and the changing pad are safe and clean. The Amore tote also contains hidden inner straps that clip quickly and neatly onto your stroller handles.
6. Gucci
Gucci handbags have been a favorite of celebrities for years, so it makes sense that their diaper bags would be just as popular with celebrity moms.  The classic style is great for moms and dads. Halle Berry and Nicole RIchie have both been spotted carrying the Gucci Logo Diaper Bag ($990 gucci.com). The bag has stroller snaps and a fold out padded changing mat, but this bag is less about function and more abut status, right?
7. Petunia Marmalade Fondant Cake Hampton Holdall
A fave of stylish L.A. moms, Petunia owners include: Gwen Stefani, Mel B, Sandra Bullock, Kate Hudson, Katie Holmes, Amanda Peet, Marcia Cross, Julia Roberts, Heidi Klum and Mariska Hargitay, just to name a few! Petunia diaper bags range from cutesy to chic, but we especially love the sophistication of the Petunia Marmalade Fondant Cake Hampton Holdall ($760 petunia.com). All this talk of cake is making us hungry!
8. Kate Spade Stevie Baby Bag

Tangerine is the color to wear this spring, so why not show off with Kate Spade's Fingers Nylon Stevie Baby Bag? ($418 katespade.com) The bag has a custom woven wipeable nylon lining, interior slide pocket, and comes with a changing pad and stroller straps.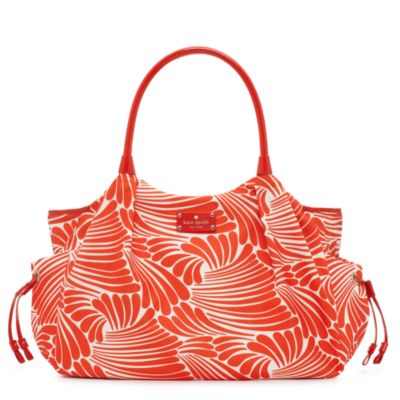 9. Jamah The Nanny
A truly unisex diaper bag Jamah's The Nanny ($775 jamah.com) is a favorite of Brad Pitt and Jessica Alba.  It looks deceptively like a traditional messenger bag, but has 6 exterior pockets, 4 interior pockets, utility lining, changing pad and a detachable flower detail.
10. Prada Nylon Baby Bag
The classic Prada Nylon Baby Bag ($1,140 saks.com) carries a hefty price tag. What do you get for your money? The nylon tote comes with a changing pad and bottle cover, and has an adjustable shoulder strap so the bag can be worn over your shoulder or messenger-style. There are also tons of pockets, but we bet the big draw is that it's Prada! And a favorite of Jessica Alba.
With all these fantastic diaper bags, there's no reason you can't be a stylish mom.  Just list the one you want on GiftSimple and raise contributions from friends and family. Your dream diaper bag will be hanging from your stroller in no time! Which is your favorite? Let us know in the comments below.
Mar 27
Gifts Our Favorite TV Characters Would List on GiftSimple (Part 1)
Not surprisingly we've had gifts on the brain lately. And with last week's season finAle of Pretty Little Liars and this week's season premiere of Mad Men, we got to thinking: What would our favorite TV characters list on GiftSimple?  Here's our list ranging from Bones baby shower to Liz Lemon's 40th Birthday. Let us know what you think in the comments!
1. Caroline Channing on 2 Broke Girls
She may have lost all of her money when her father went to prison, but Caroline still has expensive taste and isn't afraid to make a statement. Her most recent birthday was a bit of a letdown - she didn't get to see her father and Max's party may have been the worst in TV history. Next year has to be better. Caroline wears the same necklace in almost every episode and we think it's time for a new one. Perhaps the former Park Avenue princess would like Oscar de la Renta's Bead-embellished bib necklace ($1,220 net-a-porter.com). It even goes with her waitress uniform (sort-of).
2. Cast of the Jersey Shore
New (shore) house? GiftSimple is a great alternative to traditional housewarming gifts. Pool contributions from friends and family towards a larger purchase you actually want, like a leather sofa or a new dining room table. But in the case of the Jersey Shore cast, we suggest a housekeeper. From the rancid "smush room," to the clogged toilets and piles of trash, this seaside abode should be declared a hazmat zone.
3. Roger Sterling on Mad Men
While we might hope that Roger would register for a gym membership or a nicotine patch, it is unlikely (especially since the nicotine patch wasn't invented until 1985). Roger nearly died of a massive heart attack, but continues to drink and smoke every day. In fact, has he been in scene sans liquor and cigarettes? But since GiftSimple gives you the freedom to list whatever you want, Roger should at least smoke his Lucky Strikes in style with a Caran d'Ache Black Chinese Lacquer Lighter ($2,100 carandache.ch).
4. Dr. Temperance "Bones" Brennan on Bones
Bones is a brilliant anthropologist but this mama-to-be has some questionable social skills. When brainstorming baby gifts for her friends, an encyclopedia and microscope were at the top of her list.  Seely Booth (Bones' baby daddy) quickly points out "Angela and Hodgins are having a baby, not a graduate student." For her own baby shower, we think Bones would appreciate a gift that's practical, beautiful and good for baby's spatial recognition and cognitive development: GiftsDefine handmade mobile ($165 etsy.com).
5. Rachel Berry on Glee
When this NYC-bound diva-in-training graduates McKinley High School, we know exactly what graduation gift she'll want: Broadway tickets! But with 40 shows currently on Broadway and an average ticket price of $80, Rachel might need some help paying for her entertainment (at least until she's standing on a Broadway stage herself). Rachel can list a Broadway Ticket Fund ($3,200) on GiftSimple and share it with her friends and family. Then her fellow New Directions members can contribute $10, $20, as much as they want, to her gift. Good luck in NYC Rachel!
6. Emily Thorne and Daniel Grayson on Revenge
This primetime soap opera is full of secrets, lies and stolen identities; but, somehow Emily and Daniel found the time to get engaged. Their Fire & Ice engagement party may have ended with a murder, but did you see that gift table? I don't think the happy couple needs a blender. We think Emily and Daniel would appreciate a Liberty Presidential Safe ($3,870 libertysafe.com) - perfect for hiding her Infinity Box. Daniel may seem innocent now, but I'm sure he'll have something to hide in the safe come season 2.
7. Aria Montgomery, Spencer Hastings, Hanna Marin and Emily Fields on Pretty Little Liars
GiftSimple can be used for any occasion: birthdays, graduations, holidays, showers… even to celebrate the reveal of the boot-buying, glove-wearing, psycho stalker calling herself "A". These girls definitely deserve a fresh start. First thing on the list - new phones! We think they'd want Apple's iPhone 4S ($199 apple.com). When the mystery continues this summer, the girls can ask Siri for some help.
8. Liz Lemon on 30 Rock
Liz was furious when no one remembered her 40th birthday on the Live Episode. To make it up to her, we suggest the cast and crew of The Girlie Show all chip in to buy her a fantastic present. What gift would Liz Lemon want? Coach's Madison Quilted Chevron Nylon Large Lindsay Satchel ($398 coach.com). Perfect for a woman who carries her life in her bag, and the nylon exterior will come in handy should Liz spill any coffee or hot chocolate on her new bag!
Mar 06
GiftSimple's Most Outrageous Gift List (Part 1)
GiftSimple users list all sorts of gifts. From iPads and new computers to exotic trips and luxury merchandise; but, not everything listed on GiftSimple is commonplace. Since GiftSimple can be used for anything you can dream up, we thought it would be fun to list some of the most outrageous gifts that our users could have listed.
Comment below on which gifts you think are actual gifts listed on GiftSimple. And be sure to list a gift of your own on GiftSimple (perhaps one of the gifts below will inspire you!)
1. WATER JET PACK
The Jetlev-Flyer Water Jet Pack can be yours for a mere $130,000! But it just might be worth it - the jet pack can propel you 30 feet in the air at speeds reaching 21 mph! And it gets better - the website mentions "donuts" and "sea otter flips." Sounds like a good time, with the proper training of course!
2. DUNHILL BIOMETRIC WALLET
Having your wallet stolen is a huge pain in the a$$. Never worry about pickpockets again - "Virtually indestructible, the dunhill Biometric Wallet will open only with touch of your fingerprint." Connected via bluetooth, your phone will sound an alarm if the two are separated by more than 5 feet.  That will make sure you never forget your phone again.  $825
3. WENGER GIANT SWISS ARMY KNIFE
Less portable than a traditional Swiss Army knife, but if I were stranded on a desert island, this is the one item I would hope I remembered to pack - although not in your carry-on luggage as this is definitely not TSA approved. The Wenger Giant Knife has 87 implements (141 functions) and costs $1,000.
4. MAKERBOT REPLICATOR
Have you ever lost a board game piece? Or had a child break their favorite toy? Problem solved! The MakerBot Replicator is a personal 3D printer, that prints real physical objects. $1750
5. DOC SOFA BUNK BED
Thought you had one friend crashing for the night, and two show up? No problem! The Doc Sofa Bunk Bed Unit easily transforms into bunk beds, providing sleeping accommodations for two (or more). $5300
Which of the above do you think are listed on GiftSimple? What is your favorite outrageous gift? We'd love to hear from you! Comment below, post on our Facebook page, tweet us @GiftSimple or email us!
Feb 23
You Shouldn't Have! No, Really… The Worst Gifts (Part 1)
At GiftSimple our goal is to make gifting simple. We want to help you get the stuff you want from the people you know. Emphasis on "the stuff you want."  At some point we have all received a bad gift. But have you ever received a gift so bad that you were rendered speechless? Something so terrible you couldn't re-gift it because there was no one you disliked enough? We asked our customers to share their worst gifts with us.  Here is a preview with some of our favorites. If you have a bad gift you would like to share with us, comment below, send us a message or post on our Facebook wall.
1. A Re-gifted Book
I love books. They are usually a safe bet if you are buying me a gift. However, a re-gifted book, with a handwritten note from the original gift giver to the gift receiver (who is now the gift giver), is not OK!  A lot of people re-gift but be sure to check for any personalization before passing the gift along to a new recipient. 
2. Coupons
If someone needs to shell out their own money to enjoy your gift, then perhaps it's not really a gift. Discount coupons and Buy-One-Get-One-Free vouchers aren't gifts.
3. Pets
Puppies might be adorable but they are also a huge commitment. Pet ownership is a responsibility that should never be imposed on someone by a gift.
4. That Questionable Thing From Your Basement
If you're not sure what something is, chances are the person you are giving it to won't know either. Calling something a "conversation piece," doesn't make it a good gift. Some things are better left in the basement (or the trash).
5. A Scale.
Really? I can't believe anyone thought this was an appropriate gift. Weight is a very sensitive topic for many people. No matter how fancy, a bathroom scale screams "you should lose some weight." And is that the right message for a gift? I think not!  Editor's Note: This includes gym memberships. Unless specifically requested by the recipient, giving someone a gym membership is not a good idea.
More to come!
Please continue to send us your gifting horror stories and you might find yourself featured in our next blog post.